Eastville – Ethno song 2016 was held on June 16-18th, 2016. Opening event was presentation of Vlach's culture and tradition, organized at Library Hall, in cooperation with Vlach's Cultural Centre and Ms. Suzana Mijic (presenter), curator of Bor's Museum. Opening speech was given by Mr. Kokelic Miodrag (Vlach's Cultural Centre), and soloist on violin was Ms. Ivana Radulovic.
Event was also attended by our friends,  representatives of OSCE High Commissioner on National Minorities from Hague.
Round table discussion on the subject "How to improve representation of National Minorities at state and local level administrations and role of kin countries in supporting it" was held on June 17th, at Bor's Municipality. Read more…
On the second and third day, ethno song festival was held at Bor's House of Culture and Brestovac village.
We were honored to be the hosts of FE "Panonija" Tuzla, Bosnia and Herzegovina (soloist Ms. Belma Huseinefendic),
Centre for Culture, Calafat, Romania (soloist Mr. Dan Vana),
FE "Djido" Brestovac (soloists Mr. Boban Janosevic and Mr. Vlasta Zurkic)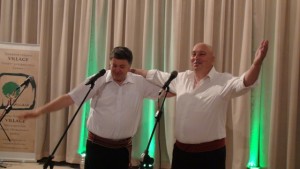 Soloist Ms. Ljubov Panasenko (Ukrainian traditional song)
Vocal Ensemble "Mali Vencik"